Judy Blake Bio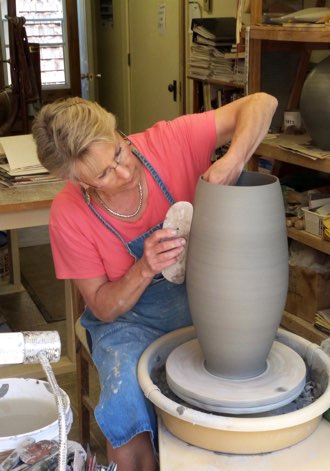 Judy Blake was born in Toronto, Ontario and moved to New Brunswick in 1966. She has been working with clay since the mid 1970's when she attended the New Brunswick College of Craft and Design, majoring in Ceramics. She has been actively involved as a juror for the New Brunswick Arts Board and the New Brunswick Crafts Council and has been the recipient of several awards including New Brunswick Arts Board grants for Creation, Travel, Professional Development and Arts by Invitation. Judy recently was awarded a prestigious Senior Artist Grant for creating work of outstanding artistic merit.
Her smoke-fired vessels have been exhibited in galleries and exhibitions across Canada, the United States and Korea and are included in many private collections internationally. One of her vessels was selected for the Canadian Craft Federation exhibition, 'Unity and Diversity' which was part of the 2009 Craft Biennale in Cheougju, South Korea. In 2012, the Art Gallery of Nova Scotia purchased one of her vessels for their Permanent Collection and recently, two of her vessels were purchased by Foreign Affairs Canada for permanent display at Canada House, London, UK. In April 2010, she was invited to have a solo exhibition at Canada's largest ceramic art gallery, the Jonathon Bancroft-Snell Gallery in London, Ontario to celebrate their 10th anniversary.She was again invited to have a 2nd solo exhibition at the gallery in December 2013. Judy has been included in the Frye Canadian Ceramicist Collection, a series of books celebrating the talents of contemporary Canadian ceramic artists.
Judy experiments extensively with unglazed surface treatments using alternative firing techniques such as sawdust-firing, naked raku and saggar-firing. She is one of a small number of Canadians and the only ceramic artist in the Maritimes using these techniques. She has had an opportunity to influence many young students as a teacher in the Ceramics Studio at the New Brunswick College of Craft and Design from 1998 to 2012 and recently has been involved in the Mentorship Program, advising graduate ceramic students. Judy Blake maintains a studio practice in Lincoln, New Brunswick.